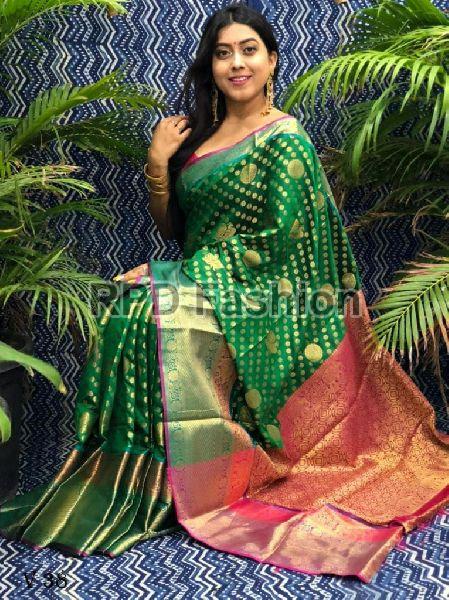 Saree is considered as one of the most fashionable garments for women in India. It can be beautifully moulded and adorned in both traditional and modern attire. A saree is one such type of dress that resembles or forms a lady. With its presence in your wardrobe, it will bring out the best of any woman. There are different types of sarees available in the market made from various fabrics and styles. One such type is Pattu Kanjivaram Silk Sarees which is quite prevalent in southern states of India.
Pattu is a Tamil word, meaning silk, a luxury fabric which is weaved from a pure mulberry silk. These mesmerising Pattu sarees are a perfect blend of exquisite pure South Indian silk fabric in beautiful colours woven with gold-coated silver zari. In the modern times, these traditional sarees have stood tall in the market by staying true to their elegance and versatility. There are different types of pattu sarees such as Banarsi, Kanjivaram, Mysore Silk, Bhagalpuri and many more.
Pattu Kanjivaram Silk Sarees, one of the most beautiful and attractive sarees all over the globe, definitely hold an exclusive place in every Indian occasion, especially among the women in the Southern states. From weddings to festivals and even simple traditional occasions, draping Pattu silk sarees adds a festive pleasure to the overall atmosphere. No bride can ever imagine their trousseau without a rich and elegant Pattu Kanjeevaram silk saree. Every woman definitely has at least one silk saree in their closet.
Significance of Kanjivaram Sarees:-
Kanjivaram is an aristocratic piece of cloth that weaves together not only with thread but with lots of values, sentiments and silhouettes. This lustrous mulberry silk fabric and deep colors mixed with hints of gold elevates each and every saree in a beautiful way. This makes kanjivaram saree as one of the most adored investments in an Indian women's closet. Kanjivaram sarees are also known as the queen of silks which is made up of shimmering weaves that merges modernity and tradition exquisitely. One of the most exclusive characteristics of Pattu Kanjivaram silk sarees is that the pallu and the borders are separately weaved and then join together using painstaking interlocking technique.
The secret ingredient of Pattu Kanjivaram silk saree is Golden Zari:-
If you have been awestruck why Pattu Kanjivaram silk saree has that golden sheen even when it does not have a gold color base, then here is this awesome explanation to it. This kanjivaram saree is woven with the silk thread that is firstly soaked in rice water and then sun-dried before using it which enhances not just its thickness and longevity but stiffness as well. This procedure altogether lends these sarees more strength and durability. Then the three silk threads are twisted together and interlocked with a thin silver wire to be woven through. After this, a golden thread is used to complete the whole procedure of this traditional weaving. The thread used itself has a metallic tinge which gives its character to this gorgeous saree that makes it a masterpiece in itself.
Another symbolic cultural belief planted in South Indian culture is that gold has the power to purify anything it touches. They believe that gold is a precious metal that represents the power and wealth of a person who has worn it. Array of demonstrations of gold can be easily seen in most of the Indian weddings ranging from the attire to the décor, and from Jewellery to sweet dishes. One such alluring demonstration of gold and silk put together is the popular Kanjivaram.
Conclusion:-
Traditionally, brides prefer to wear red and gold Pattu Kanjivaram Silk Saree as it defines love, passion and power. But nowadays there are a plethora of hues and shades like bold purple, modern mauves, peacock blue, subtle peach, fresh tangerines and combination of violet-pink. Choosing a perfect combination of colours for your saree is quite essential to enhance the beauty of these sarees. With the changing times, even artisans and designers have started modifying these pattu sarees to create a modern as well as lightweight sarees which can be paired with contrasting blouses, contemporary jewellery and dewy makeup.
The entire range of most desired sarees is available in elegant designs, alluring patterns, and modern colours. Enjoy a wide variety of these sarees by adding sophistication to your overall look. These new Pattu Kanjivaram Silk sarees will surely make heads turn and melt hearts of each one of you on your special day.