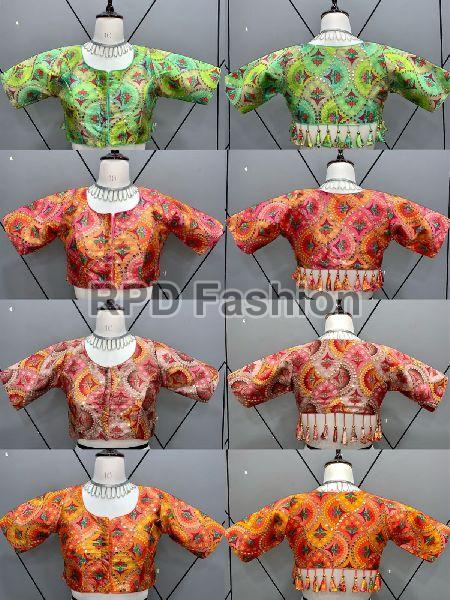 Heavy Fantom Silk Printed Mirror Blouse is easily available in the market. You can place your order online as per your size and design.
No doubt, silk blouses are one of the most important articles of clothing in the wardrobe of a woman. No issue, you are looking formal or even evening wear, such amazing garments also promises for a stylish twist on an informal look when you rightly match up with fabrics such as cotton, denim, canvas, and naturally, leather. If you merge the two unexpected items, high quality, luxurious silk with the coarser, tougher fabric, you make a special high fashion look in the way of making people amazing. Heavy Fantom Silk Printed Mirror Blouse could be the right choice for you if you wish to look eye-catching and attractive.
Why Silk Blouse is a good choice?
Silk is considered one of the most affordable and luxurious fabrics offered now. Earlier, this fabric is one of the fabrics that belongs to the royals and aristocrats and was the garment completely for them. Meanwhile, times have constantly changed. The high demand of the market and a good quantity of manufacture has made it available for common people as well. With the right proper research, there are varieties of silk stuff that are produced now from being quite costly to be reasonably cheap. If you check the market, you will find more than 15 varieties of silk that are produced in different parts of the world.
Silk for Women
For a woman, silk is a quality material that is used to patronize and flaunts their physical beauty. Any woman can easily choose from special designs of silk blouses, silk dresses, silk gowns, silk tops, and silk belts. Any sort of silk clothing if worn chiefly with silk scarves calls for a stylish tough and motivates their beauty. The majority of the office-going women prefer to wear silk blouses due to their friendliness with the skin. The unique styles of blouses for women are smocks; cuff blouses Cami Blouses, structured blouses, and ruffled blouses.
Fentam Silk
Fentam Silk is made with the support of advanced tools and machinery to make sure for a smooth texture and luster shine outcome. The fabric is offered in semi-stitched stuff to stitch as per contemporary fashion trends. It is available in different measurements and colors as per your requirements.
Color Option - Fantom Silk Printed Mirror Blouse
Normally, vibrant and amazing color options are available with silk-printed mirror blouses. However, the best colors include Green, Sky Blue, Pink, Golden, Violet Orange, etc. According to the color of the saree or other dress, you can easily choose the best one.
Available in different sizes
As far as sizes are concerned, the normal sizes that are commonly available are 34 to 42 inches. So, any body size can easily choose the blouse. Before placing your order, the buyer should make sure about the right size. Wrong sizes can result in multiple changes or uncomfortable outfits. Before placing the order, you should check the size details. It surely helps you to save your time and energy.
Sleeves
When you go out to buy a blouse, you will find blouses in different kinds of sleeves i.e cut sleeves, Bell sleeves, Cap sleeves, Kimono sleeves, Raglan sleeves, Bishop Sleeves, Butterfly sleeves, and Flutter sleeves. As per your body figure, you can go for the best one.
Place your order for Heavy Fantom Silk Printed Mirror Blouse online. There are lots of manufacturers and suppliers actively available for the customers. however, before placing your order, you should ensure the suitable fabric and design.