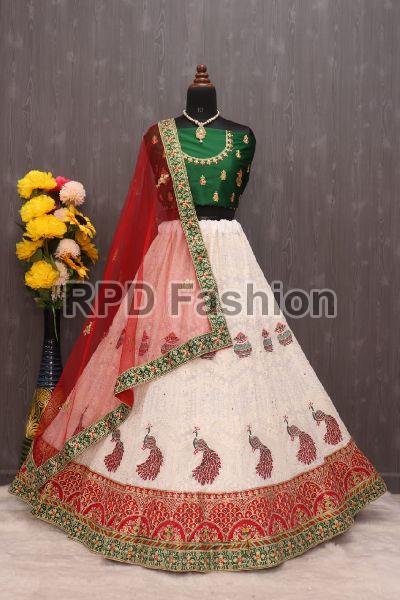 Lakhnavi work lehengas are strictly hand-embroidered and not machine-made. However, over time various vendors have begun duplicating the Lakhnavi hand-embroidery designed lehengas with the help of machines. Nowadays, it has become very difficult to tell which one is original Lakhanvi work and which ones are machine-made, owing to the precision of work, craftsmanship and original-like finishing.
By understanding to differentiate between original and duplicate Lakhnavi works, you can easily order from the Lakhnavi work lehenga supplier without many difficulties.
Handmade vs. Machine-Made Lakhnavi Work Lehengas: Know How to Differentiate
Lakhnavi lehengas are known for their lightweight and subtle Lakhnavi designs. Unlike the heavy zardozi Lehengas, you can wear the Lakhnavi lehengas anywhere; from small family gatherings to wedding ceremonies, etc.
Lakhnavi lehengas are a true representation of the deeply-rooted traditional designs original from Lucknow. But how do you differentiate between the real and duplicate ones? Here are a few ways to do so:
Check the Lehengas' Backside Finish
On looking into the lehenga's backside, you can have a look if it consists of irregularities like different-sized hanging knots or threads in various intervals. When you see the thread is not running at the same intervals, be assured that the designer has begun new from different intervals after ending threads. This will assure you of human-made designs.
In contrast, the machine-made Lakhnavi work lehenga will have definite finishing on its backside. Plus, it would also boast of a no-knotting symmetry with loose hanging thread endings.
Check for Particular Stitches in the Lehenga
Machines are unable to duplicate every Lakhnavi work. Shadow stitch is one of the most basic machine-made depictions along with pechni, holes, phandas and pattis. However, if you find the lehenga to have various other detailed stitches like Kante, dhum pattis, murri or Bijli, then they are original. This is the reason why the makers include different stitches in one Lakhnavi work lehenga.
Conduct a Good Research on the Lehenga
You can ask various questions to the Lakhnavi work lehenga supplier and manufacturer about how it was made. Check out different social media sites and see if what they are saying is true. Ask questions about the stitches present on the Lehenga.
Popular Types of Lakhnavi Work Lehengas that You Can Consider
Lakhnavi's work lehengas are no less than artwork which makes for the perfect every occasion. Lakhnavi lehengas are more than strictly lakhnavi work but also contain sequin embroidery, gotta Patti, mirror work, pearl, stonework, etc.
Here are some of the top Lakhnavi work lehengas that you can consider buying:
Lakhnavi Lehengas with Mixed Embroidery Styles
Pale pink lakhnavi work lehengas clubbed with sequins can enhance your subtle look. Choose the ones with borders, hemlines and bright florals, if you are buying them for a summer wedding party.
White Lakhnavi Lehengas
The first thing that pops up in our head when we think of Lakhnavi's work lehengas is white. White lakhnavi lehengas are great options, especially if you are considering all-embellished skirts and traditional gota work Lakhnavi works.
Colourful Lakhnavi Lehengas
If you're one of the bridesmaids and looking for something pretty for morning wedding rituals, then choose bright-coloured Lakhnavi lehengas in yellow and green. You can even go with pastel shades like mustard and mint green.
Golden Lakhnavi Lehengas
Lakhnavi lehengas in silver gota-Patti completed with gold zari give a royal look. Choose peace-toned gold golden Lakhnavi work to stand out.
Beige Lakhnavi Lehengas
Elegance comes with beige lakhnavi work lehengas, owing to its unique hue. While you might only consider pastel shade lakhnavi lehengas, the beige lakhnavi work lehengas go great with strap blouses.
Other options that you can find in Lakhnavi lehengas are different shades of pink, peach, pastels, etc. When you are interested in buying lakhnavi lehengas from a vast array of options, make sure to buy them from the lakhnavi work manufacturer. They would have all the latest trends and designs that you are looking for.